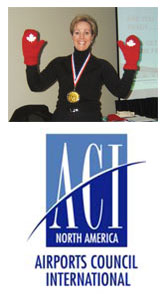 Gold Medal Award!
Elaine designed and delivered "Get Your Game Face On – We Welcome the World" training program to over 3200 employees At Vancouver International Airport (YVR), in preparation for the 2010 Olympic & Paralympic Winter Games.
The "Get Your Game Face On" program won 1st place in the Best Training Program category… as voted by Airport Council International (ACI)- North America, beating out other programs delivered at 60 airports.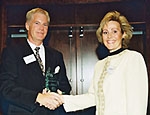 Entrepreneur of the Year Award!
Elaine accepts The 2002 Visions of Excellence "Entrepreneur of the Year Award" for the consulting category.
Here's what some of Elaine's clients are saying:
"Elaine Allison was truly top notch. She was able to speak to our members' specific customer service issues, starting from the landscape, and ending in actionable engagement our attendees could walk away with, and use immediately. Her willingness to customize her presentation for our industry, her professionalism and her outstanding materials made her a dream to work with. One member emailed us after the conference to request we provide ongoing online education "just like Elaine Allison's conference topics." We were very fortunate to have Elaine at our 2016 conference, and would highly recommend her to any conference planner looking for a standout speaker on customer service."
Alison Cody
Executive Director
Manufacturers' Agents Association for the Foodservice Industry (MAFSI)
"We worked with Elaine to develop "I can figure it out", a 3 hour training workshop for our staff to help them develop new strategies to work with internal and external stakeholders. As the coordinator, working with Elaine was very easy! She was flexible with the scheduling of the needs assessment interviews and met all her deliverables by the timelines required. Overall, the training was well received and our staff appreciated and benefitted from the curriculum delivered, as well as Elaine's credibility due to her wealth of experiences in various settings. We have limited funds annually to deliver professional development and we feel the return on investment was worth it!"
Maxine Dubuc
CATSA, Advisor – Service Delivery
"Elaine presented to our Group of Companies on "Improving Customer Experience". She did a great job in talking to our people at all divisions to understand our group in order to prepare for the workshop. And it was bang on! The topics and techniques discussed and learned were met with a high level of satisfaction."
Don McMillan
Redwood Plastics Corporation
"After reading her book, we hired Elaine for our Small Business Week meeting. Our members commented on how much they had learned in just a short time to handle and resolve any customer issues. Our members want Elaine back."
Gillian Kirk
Member Services
Tri-City Chamber of Commerce
"We were looking for a program custom-tailored to meet an elite group of high wealth individuals and companies. Elaine's delivery was playfully interactive which proved to be entertaining so the focus of participants was on the information and not the clock on the wall."
Jodie Rowe
Customer Service Manager
InterDel Aviation Services Inc.
"Our organizing committee was seeking out someone to motivate and create a positive learning experience to reinforce our ongoing internal Customer Experience initiative. We appreciated the time Elaine took to speak with various leaders and employees to finalize her 'I Can Fix That' presentation for approximately 800 of our staff. This resulted in the audience really connecting with her. Elaine is a great Keynote Speaker.
Tim O Brien
VP Supply Management & Corporate Services
Insurance Corporation of British Columbia
"Elaine's presentation was a resounding hit at our conference. This session received the highest rating of any workshop speaker we have had at our conference over the past 8 years. If you are seeking a dynamic well seasoned speaker I recommend Elaine without hesitation.
Melissa Cable
Active Network
"Overall, Ms. Allison is a Grade A speaker who presents with enthusiasm, passion, intellect, humor and poise.
Ben Petrone
Associate Director of Publicity
Penguin and Viking Press
"If you think you can't afford to hire a business coach, I say you can't afford NOT to. I recouped my investment even before our 6 coaching sessions were complete and since then my income and confidence has continued to soar. This gal knows her stuff!"
Michelle Cederberg
MKin, CEP, Professional Speaker
"Elaine coached me exactly the way I liked it…very professionally, personably, effectively and reasonably. She is an incredibly skilled coach and negotiator. I recommend her in a heartbeat."
Jan Urata
Paralegal
"We were impressed by her efforts to tailor to the needs of our audience as well as the overall flow of the conference."
Alberta Central Management Conference
Kananaskis, Alberta, Canada
"Very clear, informative and entertaining. Best presentation at the conference."
ASCnet Conference
Disneyworld, Florida, USA
"Participants walked away with a better understanding and tools to handle personal and workplace issues."
Marie-Luisa Liberatore
Member Services Officer
Association of Administrative and Professional Staff, University of British Columbia
"During the selection process it became obvious that Elaine clearly understood our needs and possessed the right skill set to develop and deliver the training program we were looking for. She also came highly recommended by some of our clients."
S. Siddiqui
Vice President, Buildings Engineering
Stantec
Sample Client List
Financial and Insurance Services:
Bank of Montreal
Ernst & Young
Powell River Credit Union
Athena Insurance
Alberta Central Credit Union
Barton Black & Robertson
Coast Capital Insurance Services
Coastal Community Insurance Agencies Ltd.
Creston & District Credit Union
CUISA Credit Union Insurance Services Association
East Kootenay Community Credit Union
East Kootenay Community Insurance Services
Family Insurance Solutions
Herchmer Insurance Agencies Ltd.
Howell Agencies
IBABC Insurance Brokers Association of British Columbia
ICBC Insurance Corporation of British Columbia
Insurance Brokers Association of BC
Insure BC
Lombard Insurance
QUES-CU Insurance
WESTCU Insurance Services Ltd.
Scotiabank
Johnston Meir Insurance
London Drugs Insurance
KPMG
Government:
CBSA – Canada Border Services Agency
CBP – US Customs & Border Protection
RCMP – Royal Canadian Mounted Police
TSA – Transportation Security Agency (Honolulu)
Elayn Hunt Correctional Centre (Louisiana)
Fraser Valley Public Libraries
Prince George Public Library
Ontario Lottery Corporation
North Vancouver Recreation
Ministry of Environment
CHMC (Canada Housing and Mortgage Corporation)
Ministry of the Environment
Interior Health
CATSA – Canadian Air Transport Security Agency
Canada Corrections
US Naval Security Group – Pearl Harbor
City of Edmonton
Travel / Transportation:
Rocky Mountaineer
Air Canada
Westjet
Alaska Airlines
Cathay Pacific
Delta Airlines
United Airlines
Saudi Arabian Airlines
SITE Florida, Curacao
Bombardier Transportation
Grouse Mountain Resort
Hemlock Ski Resort
Roll'n Oilfield Industries
Vancouver Airport Authority
Tourism Vancouver
Canada Line (ProtransBC)
Avitat Vancouver
Aeroguard Group
Port Metro Vancouver
Quality Move Management (Allied International)
APT – Australian Pacific Touring
SITE (Society of Incentive and Travel Executives)
Human Resources:
Canadian Hire Inc.
Fred Pryor / Career Track Seminars
Human Capital Development
Human Resources Canada
BCHRMA
Education:
Kamloops School District #73
Southeast Saskatchevan Teachers Assn.
University of Wisconsin
School District 45 (West Vancouver)
School District 41(Burnaby)
Capilano College
Technology & Engineering:
Lumex Instruments Canada
ASCnet Applied Systems Client Network
BC Applied Systems User Group
Class Software/Active Network
Client Connect Plus
Elliott Labs
Fincentric
ISM BC (a division of Telus)
QCA Systems Ltd. Industrial Automation Solutions
Redwood Plastics Corporation
RWDI Engineering
SWAN Southwest Applied Network
STANTEC Consulting
AIBC Architect Institute of BC
IALD (International Association of Lighting Designers)
SWAGELOK
Retail & Food / Beverage:
HMS Host
The Hudson Group
Aldeasa Duty Free
A&W
Absolute Spa
Hanami
HDS Stores
The Paradies Shop
ICE Currency
MAFSI (Manufacturing Agent's Association for the Food Services Industry)
Sears Canada
Sonic Restaurants Inc.
B & J Autoparts
Fermenters Guild of BC
Health:
BCHS – BC Health Services
Regina QuApplle Health Region
Interior Health (BC)
Miscellaneous:
Toastmasters District 96 Annual Conference
4 Pillars Consulting Group
Calgary Real Estate Board
Concord Security
Marquise Facility Management
CSEME Canadian Special Events & Meetings Expo
E-Bill Systems Inc.
GardenWorks
Promax Audio Visual
VMC Vancouver Mechanical Contractors
Rogers Cable
International Association of Administrative Professionals
Union Gas
Ossur Generation II
Good Shepherd Lutheran Church (Assisted Living)
Global TV – Halifax
Supreme International Ltd.
Live Out Loud
IASB (International Association of Speakers Bureau) Showcase
Aramark (Complete Purchasing Services)
Amercia Empressarial (Bogota, Columbia)
Women's Audiences:
Women in Food Services Forum
eWomen Network
Women in Trades
Women in Law Enforcement (NAWLEE)
Women in Transportation
University Women
Rogers Cable – Women's Group
BPW – Canada
CAC – Canadian Women's Coaching Association
West Africa Gender Diversity Conference
Ignite Excellence Conference
If you want to become #1 in Customer Service, contact us to find out how we can help. elaine@elaineallison.com