How Women Can Lead With Grace & Eloquence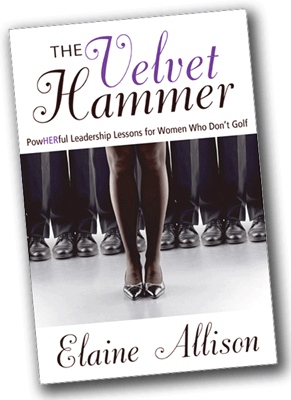 or
Buy the Kindle edition ebook at Amazon.com for only 8.99 USD!

"As National President of an international women's organization, I have found women all over the world, struggling to find great information on leadership and supervision from a women's point of view. Most leadership books I have read are written by men and suggest tactics that don't always work well for women. Alternatively, the books written by women have been at an executive level, or from an academic viewpoint. Finally, this is the first "how to" book I've seen that shares real life stories and examples that we all face on a daily basis and offers concrete strategies. The "Velvet Hammer" techniques will work for women at all levels, from the beginner to the experienced. It is a must read if you are a woman and managing people."
Darla D.W. Campbell, National President – Business and Professional Women Canada
"This fascinating book shows how women leaders can be both decisive AND diplomatic, confident AND compassionate, strong AND supportive. Readers learn how to match their style to the situation-whether that's being a team leader or a team player. Read it and reap."
Sam Horn, author of Tongue Fu!
"I knew there were differences in how men and women lead. I couldn't wait to get this book for the women mangers on my team."
David Craigen, CEO, Powell River Credit Union
Want to learn:
How and why women lead differently than men?
How to manage friends and handle the early transitions of leadership with ease?
How to deal with the mean girl syndrome, conflict and team conflict with grace?
How to handle even the most dominant alpha-male with tact and diplomacy?
How to tell someone to knock it off – nicely?
Then this book is for you. 98% of the leadership books have been written by men, often the tactics suggested don't work for a woman. Discover a myriad of Velvet Hammer techniques in this amazing "how to" book where you will find skills, ideas and tips to help you handle your leadership role eloquently and gracefully all while getting things done on your terms.
or
Buy the Kindle edition ebook at Amazon.com for only 8.99 USD!

---
Top Intellectual Minds Map Out Successful Business Strategies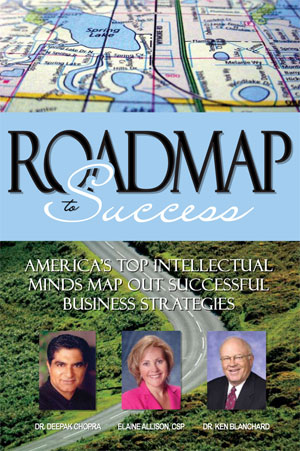 Elaine has partnered with Deepak Chopra and Ken Blanchard and many other experts. She is a contributing author to Roadmap to Success.
Roadmap to Success brings together North America's top intellectual minds.
To be successful in life we all need a detailed plan or set of instructions to guide us in getting from where we are to where we want to go. This detailed plan is our roadmap and it allows us to organize our thinking so we can do what is necessary to reach our goals.
Roadmap to Success is a tool you can use to plot your course by learning from several of the most successful people in business today. These people have the experience and proven ability to steer you in the right direction. You will find their broad perspectives of leadership will give you tips and strategies about how to reach the top and stay there. If you have achieved success or if you are still on the road to success, you'll need a roadmap. Roadmap to Success is an investment in your future. Remember you are your most valuable asset.
If you want to become #1 in Customer Service, contact us to find out how we can help.